Hello Everyone!

Thought it would be fun to do a couple of Halloween projects with Halloween right around the corner this would be fun.
This idea caught my attention but I want to take it to a different level.
You will need: CRAFT PUMPKIN, Drill or dremel, Drill bits, Light kit, Flowers, stencils optional.
Tip: Make sure your pumpkin is a craft pumpkin and not a foam filled pumpkin.
I decided that I didn't want to deal with real pumpkin; I wanted something I could keep and eventually grow a collection over the years. Craft pumpkins at Michaels Craft stores are the perfect thing for such an idea.  Craft pumpkins come in 3 different collars and different shapes for great mixing and matching!
These designs can be used for Halloween and also for Thanksgiving. It makes decorating for fall a little simpler and very Affordable!
First, lay out your design. I put mine down on paper then transferred it onto my pumpkin with a washable marker; excellent for a nice clean look when you are done drilling. If you are not the best at transferring the design you could use a stencil. They are a great optional tool!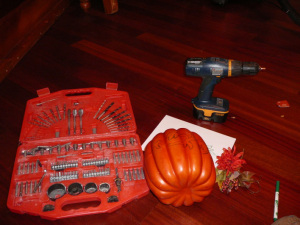 Once you have your design laid out match up your drill sizes that would best fit your design.
Note that the size of your drill makes the design look more intricate and gives it dimension. As you can see in this picture I also purchased a floral for $1.47 to adorn the top of the pumpkin. I was going to use a Dremel and cut out this design but realized that this particular pumpkin was filled with foam so make sure your pumpkin is a hollow craft pumpkin!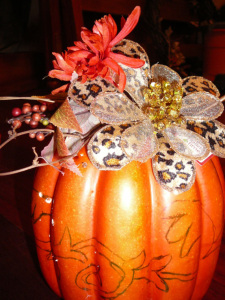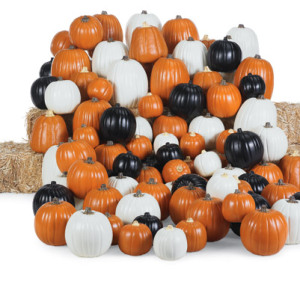 Going from This above to This below!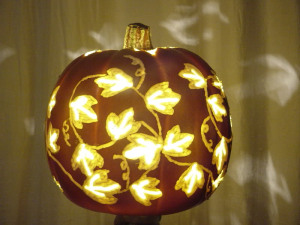 Don't be afraid to have some fun with your design. This look was accomplished with a using a stencil and a dremel tool and acrylic paint.
Tip: If you use Acrylic paint I sugest that you seal your pumpking with a clear acrylilc spray to protect the paint from chipping.
They also have glow in the dark paint too!  How Cool!
A second idea is to get creative with some Christmas lights. You can wind these perfect pumpkins with lights giving off different designs without too much effort. You will need craft glue-preferably a hot glue gun. Just string them together as you would Christmas lights.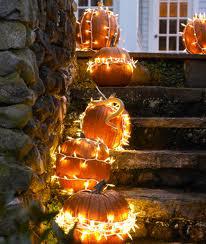 Thank you father that we can enjoy fun things like this in our lives.
Happy Halloween everyone!
Mischele Makhlouf