Good Morning everyone!  I have updated my 'about me' page and wanted to share here. Finally a picture!
We will return tomorrow to our normal postings!  Have a blessed Monday!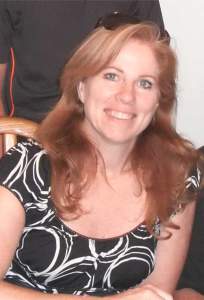 Hello!  My name is Lisa Evola. I am a wife, a mother, a friend, an artist and a businesswoman, but first and foremost I am a joyful daughter of the most High God!  My spiritual gift I believe is primarily compassion, and therefore, my heart breaks for what breaks God's. This compassion has led me to seek His face in all that surrounds me, and has given me a desire to help those who desperately need compassion and love; the love of a Savior.
I believe that my greatest accomplishment in my life was raising my boys to truly love God.  Not an easy task in our society.  Everything else that I could ever do in my life would pale in comparison to the importance of continuing God's legacy.
Music is a big part of my family's life.  My husband Paul plays guitar on the worship team at the vineyard church that we attend, my son Adam also plays guitar and the youngest, Ryan, is learning. Both of my sons love to go to ICTHUS – a 5-day Christian music festival in Kentucky – In JUNE - and they manage to drag me along every year, to sweat along with the rest of them!
          I am a women's bible study leader in my church and I have a daily devotional blog centered around the hearts of women and developing their relationships with the Lord, in everything that they do.  My focus is to walk daily in the steps that God has set before me, raise my two boys to be Godly men; teach them to be independent, to love and support my husband and nurture my marriage and to create a warm and comfortable home for my family.  This can sometimes be a challenge for me as housecleaning is NOT my favorite activity!  I try to spend as much time as I can in my garden and flowerbeds…it makes me feel like I'm in my own little Eden; caring for what God has created.
My blog has lead me into a writing ministry I hadn't even expected. I am writing for women who long to have a deep relationship with God. I would like to help them see that there is a beauty in this world, in everything around us, that it is all the very essence of our creator.  He made us in His image, to have His heart, and I believe that through a relationship with Him, this is possible; the possibility to see the beauty of all  His creation, not just what is pleasing to our eye.
In addition to writing a daily blog, I lead a writer's critique group and am also a writer for "Encouraging Words Ministry" I am currently working on my first book entitled "Building The Temple", which deals with how we are forming the temples of ourselves.  We are God's resting place and should provide a beautiful vessel for Him to dwell in.
_________________________
Lisa Evola is Co-Founder of A Beautiful Life ministry,  empowering women to take control of their lives and their relationship with the Lord. Contact her at

[email protected]

or visit her blog:

www.abeautifullifeministry.org