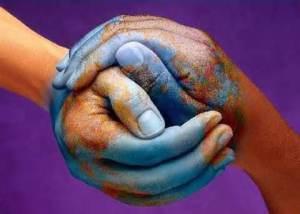 Review Matthew 5:1-8
This Week's Memory Verses:
Matthew 5:9-10
9: "Blessed are the peacemakers, for they shall be called sons of God."
10: "Blessed are those who are persecuted for righteousness' sake, for theirs is the kingdom of heaven."
Peacemakers. This conjures visions of heads of government shaking hands, while behind their backs they cross their fingers. Or maybe you see a teacher standing between two students making them apologize to each other. Or a wife, willingly submitting to her husband, even though she knows he is wrong. (hee hee….had to throw that in!) What is a peacemaker according to Jesus in the Beatitudes?
The answer I have pondered all week long, for you see I question whether I am capable of this daunting task.
About a week ago I had words with my mother.  I did not think that they were "words" till I received the email that chastised me for making her feel bad.  Although what I said, I did not intend to hurt her…it did. And in retrospect I can see why.  I caused her to be defensive of her own past actions, and honestly it doesn't even matter whether I am right or she is, what matters is that I drove a rift in our mother/daughter relationship that simply should not be there.
So, how to repair the damage without being led back into the original discussion?
I read some things on what this particular beatitude meant and I contemplated how it pertained to my life and this situation, and this is what I learned:
Being a peacemaker is not about saying you are wrong when you are right, but about evaluating the situation from God's perspective, and being slow to speak.

A peacemaker does not shove things under the rug in order to avoid confrontation, but instead considers the feelings of the other person and determines the weight of their words.

Peacemakers build up, they do not destroy.
Although I did not say what I said in order to be right, I believe that I spoke too quickly and did not weigh how my thoughts would be taken. I'm still not sure what God's perspective would be on this particular topic, but I think he may have used different words or a different approach. Sometimes when we say things to others, we think we are helping them, when in actuality all we are doing is condemning them.
Of course there are some things that just need to be said, but is there a different way to say them? A gentler way? Maybe giving exact references instead of just your opinion of what it means?
First and foremost, the words that I chose did not build, but broke down. Not only the spirit of someone that I love but also my relationship with my God. Not fatally broken down, but it is definitely an on your knees moment. Everything that we think, say, and do that is not the way that God would think, say, and do it, is sin.  So I (again) will confess my sinful nature and ask for forgiveness – From God and my mother.
My Prayer:
Lord I am so sorry that hurtful words came from my mouth and my heart. Forgive me, and thank you for showing them to me so that I can repair – not only my heart, but also the heart of another.  I pray that next time I will be slower to speak, for out of the mouth comes the desires of our hearts, and my heart's desire is peace.
Reflect His Light!
Lisa