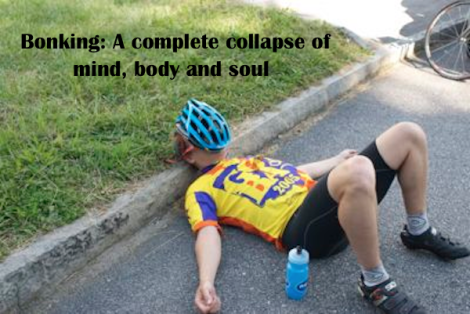 Out of Gas?
Can't pedal one more rotation?
Poor, or no preparation for long journeys is never a good idea. When planning a long or arduous ride, the road warrior will load up on carbs the night before as well as in the morning, for he/she knows that if the body isn't fueled up properly, it will hit a wall before the journey's end.
Road bikers call it bonking, and it occurs when every bit of stored up energy has been used by your muscles, to the point that you just want to sit down and cry. In order to prepare well for such a trip, the rider needs to carb load beforehand. And if it is a particularly hard or long journey, carb loading is necessary the night before as well.
Improper preparation will leave the rider worn, weary and hurting, for some time to come.  Recovery in this kind of a situation can be long and crush the spirit for future treks. But if managed properly, will build and strengthen even the most timid athlete.
The spiritual journeyer calls it burnout ~ and preparation is a must!
If we are unprepared for what lay ahead, our journey can become arduous and even painful. Careful fueling and refueling is necessary in order to go the distance.
Prayer is first on the list for spiritual journeys. Has God placed a dream in your heart? Pray about it. Ask for guidance. Following God's way is always best.  Sometimes when we do things our own way and in our own strength, the outcome or traveled road can be rocky.
Are you beginning a walk of obedience toward Him? Pray.  Possibly you are in the middle of a God project and feeling a bit drained. Pray! Prayer is the foundation of everything we do.  It ensures that we are making every effort to do God's will and not our own, and then that we are doing it in His strength.
Learn the ins and outs of what you're doing – Do the research and know how to go about your chosen task. Yes, God will equip you, but knowledge and wisdom are an invaluable asset for getting things done. It is never a good idea to go into a project without knowing anything about it or how to accomplish your goal.
Remember to rest. The Sabbath was created for a purpose.  God wants us to rest and refuel for what lies ahead. I once - worked a full time job (11 days in a 2 week period), went to college full time, in addition to raising my young daughter alone, as well as keeping a house.  Needless to say, after a time I was burned out, and I was not a nice person to be around. It wasn't long before I had to admit that I needed a rest.  Don't wait for the inevitable crash…..rest regularly!
And finally: Employ help – delegate portions of the task to those around you. Lightening your load a bit will give you the breathing room needed to accomplish your goal, and accomplish it with excellence.
…and did I say….pray?
Truly, talking to God is the best thing you can do to prepare and refuel. He is standing by, just waiting for you to ask…
For help
For strength
For guidance
For love.
Don't wait to discover that you've bonked and have nothing left to give. Refuel for the spiritual journey ahead and run across that finish line!
Soli Deo Gloria!
Lisa