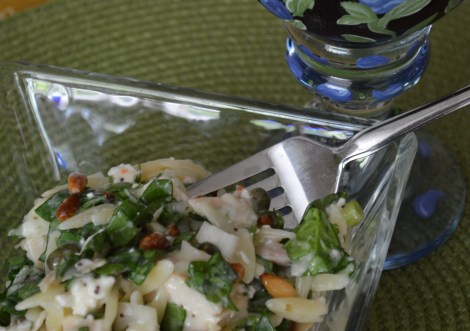 Which came first….the chicken or the egg?
In my house, I think itwas the rotisserie chicken! The ability to adapt is a must in our living environment.  That goes for kids, plants and yes….even, food! I think one of the most adaptable foods is the rotisserie chicken. Have you ever used one for something other than just eating  right off of the bone?
We have found that this wonderful addition to many markets and grocery stores, is the launching point for numerous family favorites – and quick too! Instead of grabbing McDonald's when we are short on time, we grab a chicken, cut it up into bite size pieces, and add whatever we can find in the refrigerator to make it an outstanding one-dish meal!
Here is one of our family favorites:
Chicken Orzo Salad
Sometimes I use Parmesan cheese too.  Pretty much, I open the fridge and decide on the dishes ingredients based solely on what I find inside.  Sometimes all I have is mayo, grapes from the kid's lunch, and celery.  But that is a totally different dish, for a totally different time!
All you do now is throw it all in a large bowl and toss well!
If you have time to let the flavors meld,…do!
If not….Bon Appetite!
This is an amazingly easy dish, and versatile too! You can make it as easy, or as complicated as you like depending on if you want to chop additional ingredients or not. Personally I like the ones that you just throw in….all I want to chop is the chicken. I do have to cook the orzo, but it is small, so it doesn't take long.  I usually do that first and prepare the rest while it is cooking.  Make sure you rinse the orzo with ice cold water or your salad will be warm.
I think I have gotten my time down to 3 ½ minutes to dismantle and chop a chicken.  Add in the ingredients and you can have an amazing dish that people will think took forever to prepare. Use your imagination!
You can create hundreds of dishes from one of the most adaptable meats I know.
Enjoy!
Soli Deo Gloria!
Lisa